Description
CleanyTeeth for Dogs Brush Head Replacement Heads 3-sides
One piece is included in the CleanyTeeth for Dogs Starter Kit.
Please replace the Triple Brush Head every three months. Even if the bristles do not look worn or bent, the cleaning effect gets worse with use.
For the dental care of small dogs, we highly recommend the use of our Single-sided Brush Head.
How the 3-sided Brush Head works: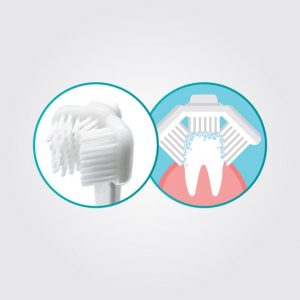 The 3-sided Brush Head cleans all surfaces of your dog's teeth in one pass
Designed and made in Germany.